Flicking plastic penguins across ice cool classrooms to catch fish – what's not to love?
And, when you become a little more skilled, you can even get your penguin to jump over the walls too – happy days!
"It's not just Cool – it's Ice Cool"
---
Ice Cool is a fantastic, new family board game for up to 4 players, aged 6+ and takes around 30 minutes to play. It is an absolute blast of fun for any age, recommended for families and also for adults who love playing board games.
---
Aim of the Game
It's nearly lunchtime at Ice School and 3 naughty penguins have decided to skip lessons early to sneakily catch some fish.  Only the Hall Monitor can stop them. The penguins (runners) slide, curve, or jump their way around the corridors searching for the yummy treats for their rumbling tummies whilst the Hall Monitor (catcher) tries to catch them in the act.
In each round, one player takes on the role of Hall Monitor – the catcher – and the other players become the runners. Runners start in the classroom and players then take turns to flick their penguin across the board.  There are 3 fish of each colour (red, yellow, green, blue) hidden in doorways of the classrooms which penguins can snatch as they slide through the doorway. Players take the fish colour that matches their penguin colour.
When a fish is taken, the player is given a fish card with a victory point on it, or a bonus extra-go, and these points will all be counted at the end of the game to decide the winner.
The catcher starts in the kitchen and must try to catch all the penguins before they eat all their fish.  This player must flick their penguin and try to bump into other penguins on the board in order to catch them. When a penguin is caught, the catcher can also take a fish card with victory points.
The round ends when either the runner penguins have caught all their fish or they have all been caught by the catcher.  Each player gets a turn at being the catcher and then the game ends.  The player with the most victory points wins the game.
Game Play
Set up is actually rather ingenious as it has a 'box-in-a-box' design; 5 boxes nestle inside the main outer box and, once removed, they all link to become one game-board. Each box has a coloured spot that lines up with a matching coloured spot on a different box so it's simple to put together. The boxes are held in place with wooden fish pegs.  The design of the board game itself is lovely giving the impression of a school completely frozen over for these adorable little penguins to go ice-skating around, through, and over.
We found that the board game itself is very easy to set up and we like that the game all packed away so neatly and efficiently within the one box.  However, we did find that if you rotated the board around on the table for players to reach their penguins that the boxes would lose their alignment.  We were also worried about damage that might be done over time to the underneath of the boxes if we continued rotating the boards. So instead we opted to walk around the board, rather like snooker players, so you might need a little more room to play this one if you want to keep the box looking lovely and together.  We also thought it would be nice to have had the option to change layouts of the boxes when putting the game together. However, these are just small niggles to what is an amazingly fun game.
Game rules are actually very simple to understand making it a great choice of game for the entire family, from ages 5/6yrs+. The game designers have thought of everything too; for example, if your penguin gets stuck against a wall or doorway then the penguin can be moved to the nearest red lines drawn on the floor of each classroom, rather like the touch lines and goal lines in football, and can take their shot from there. Another nice rule is that if you have collected two fish cards with 1 point on both then you can use them to take an extra go which might possibly help you edge forward to victory – handy if you were straggling behind.
The penguins are well made and weighted so that, just like Weebles, they never fall over and will bob back up ready to be flicked again and again.  There is a bit of a knack to flicking these penguins and the better you become, the more of an advantage you will have over other players.  You need to flick the base of the penguin straight on if you wish to go in a straight line, flick the penguins on the side if you wish to make a curve, and flick it on it's head if you wish to make it jump over walls.
My family absolutely loved making the penguins jump over walls from one side of the board to the other – and sometimes fall off which caused lots of laughter. Getting a penguin to jump is quite a tricky move and will require a bit of practice but it's so much fun trying – I think my hubby ducked several times whilst I was doing this!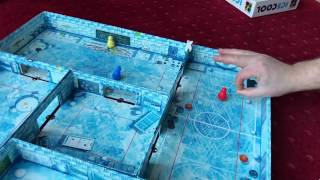 My two boys soon got used to flicking the penguins around the board with some skill.  The game does have quite a cat-and-mouse feel, making it a rather tense game as players try to outrun each other;  my children were literally jumping up and down with excitement or exasperation upon the outcome of taking their moves. Because game play is only 20-30 minutes and moves are entertaining and enormous fun, it holds children's attention really well and is a game you are likely to come back to time and time again.
---
Pros
Fun flicking action game
Suitable for all ages, families but also just for adults wanting to play
Quick game play
Inventive and highly entertaining
Good price at around £29.99
Holds children's attention
Easy set up and space saving design
Great re-playability for families in particular
---
Cons
Box can move out of alignment at times
Some moves are harder than others like jumping so need practice
Only one layout design
---